It's the great sweatpants debate! When Eva Mendes joked with "Extra's" AJ Calloway that the way to keep a man happy at home is by avoiding sweatpants, the internet took notice!

She told A.J., "You can't do sweatpants… ladies, number one cause of divorce in America, sweatpants, no!"
When Mendes' comment went viral, Ryan Gosling -- her main squeeze and the father of her baby Esmeralda -- came to her aid, tweeting, "Obviously sweatpants thing was a joke. Wearing them now. That's right, tweeting in sweatpants. Rats! Said too much! You win again Twitter."
Eva took to Instagram to apologize to her sweatpants, poking fun at orange crocs instead. "Dear favorite pair of sweatpants. I was just kidding when I said you're the #1 cause of divorce. Everyone knows that orange crocs are the #1 cause of divorce. Either way it was a bad joke and feel terrible if you or anyone thought I was serious. Thanks for understanding sweatpants. Sorry orange crocs."

Of course she was joking, Eva has worn sweatpants in public… and looked hot doing it! In fact, she included the Dylan Jogger Pant in her New York & Company Collection (check them out below).

She's not the only one. Check out these hot stars rocking the casual look!


[Rihanna/Splash, Jenna Dewan/INFPhoto.com, Eva Mendes/FameFlyNet, Jennifer Lopez/INFPhoto.com, Cara Delevingne/INFPhoto.com, LeAnn Rimes/FameFlyNet]
Try the sexy sweats style yourself with these hot looks!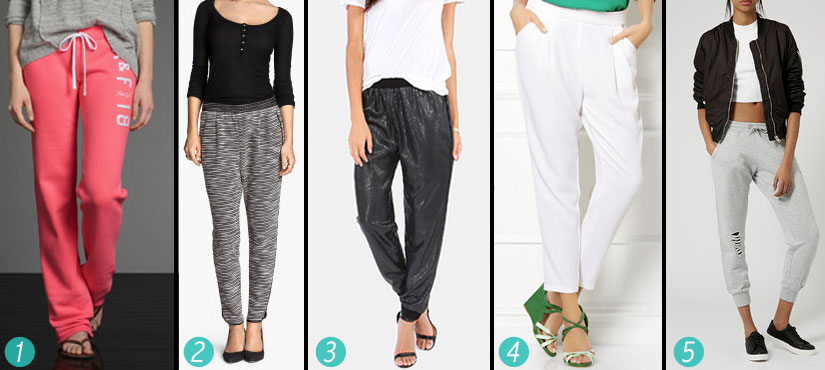 1. A&F Skinny Sweatpants, $23.20
2. H&M Knit Jogging-Style Pants, $24.95
3. Gentle Fawn Rocha Black Sequin Harem Pants, $93
4. Eva Mendes Collection Dylan Jogger Pant, $64.95
5. Topshop Destroyed Joggers, $52