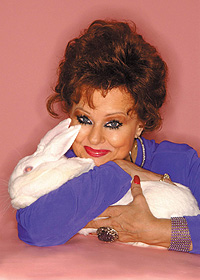 Emaciated and struggling to speak, Tammy Faye Messner's warrior spirit and insurmountable courage could still be seen during her emotional interview with Larry King.
Though Tammy admitted to Larry that she's bedridden most of the time, she was still able to smile for the cameras and bat those trademark lashes.
Even her husband Roe can't believe the way she's handling her life and death battle.
"We make it good, don't we honey?" Roe said to his wife through laughter.
Tammy is battling inoperable lung cancer. She's down to 65 pounds, and her days could be limited. Though she said she's still scared, she's confident about where she's going.
"I'm going straight to heaven," she said, happily.
Poignantly, Tammy told Larry one of her last wishes.
"I still want to be cremated," she said.
Now, only "Extra" has one of Tammy's friends speaking out about her ordeal.
Ron Jeremy, who starred with Tammy on "The Surreal Life" and grew close with her during that time, is in shock at his friend's frail state.
"Seeing her last night was very painful," Ron said. "You get choked up."
Still, Ron isn't surprised to see her fighting spirit pushing through the pain.
"She told me two weeks ago she was shopping for shoes," he said of Tammy's incredible will to live.
Now, Ron is breaking news to "Extra," revealing that the woman with whom Tammy's ex-husband Jim Baker cheated is speaking out.
Jessica Hahn has reached out to Tammy, calling her on the phone and pleading, "Please don't go. The world needs you right now."
Still, Tammy said she has not heard directly from her ex-husband, saying only, "God's going to do it."
Today, while speaking to a small crowd, the disgraced televangelist said on his webcast, "I feel such a heaviness."
Tammy's son, pastor Jay Baker, said his father's thoughts are with his dying ex-wife.
"He always tells me how he's praying for Mom, and thinking about her," Jay said.
Tammy, even in what could be her last days, is thinking about more than just her fate – she's managing to reach out to the world.
"I'd like to say I genuinely care," she said. "I want you to find peace. I want you to find joy."
Keep sending your messages to Tammy Faye. Post your comments here.