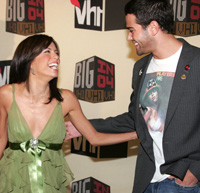 They were once primetime's most scorching TV couple: Eva Longoria and her sexy gardener, played by ab fab Jesse Metcalfe.

On Thursday, "Extra" dished that the sexy actor had checked into rehab for alcohol abuse.

But only we were on the "Desperate Housewives" set after the news broke, as Eva reacted for the first time to the news.

"I was really surprised," Longoria acknowledged. "That's a very, very brave thing to do."

"Extra" also uncovered the biggest "Desperate" secret of the season: hot new mama Marcia Cross will be back for the season finale!