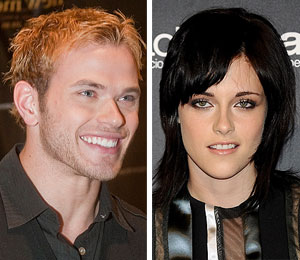 Kellan Lutz "would love to kiss" his "New Moon" co-star Kristen Stewart, he revealed on on Ryan Seacrest's KIIS FM show Monday.
But their romance wouldn't leave the set.
"I think she's too independent for my blood," Lutz, 24, says of Stewart, 19. "She's so spicy."
See Kristen Stewart's different "New Moon" looks
One woman he claims he hasn't cozied up to: "90210" co-star AnnaLynne McCord, 22 -- despite romantic photos snapped by paparazzi.
"I've known her for six years, and we met again on the set [of 90210], but we shot Abercrombie [catalogs] way back in the day," he says. "She's single, and I'm very much single."
Check out photos from the set of "New Moon"
Lutz is also staying mum on his current love life.
"I don't really think about who I want to date," he explains. "I kind of fall into situations, and then I'm like 'Oh, I'm dating you now.'"
See everything you want to know about the "Twilight" franchise before tonight's premiere of "New Moon"