Actress Sally Field was arrested Friday in Washington, D.C., TMZ reports.
The star was taken into custody amid Jane Fonda's "Fire Drill Friday" protest at the Capitol over climate change.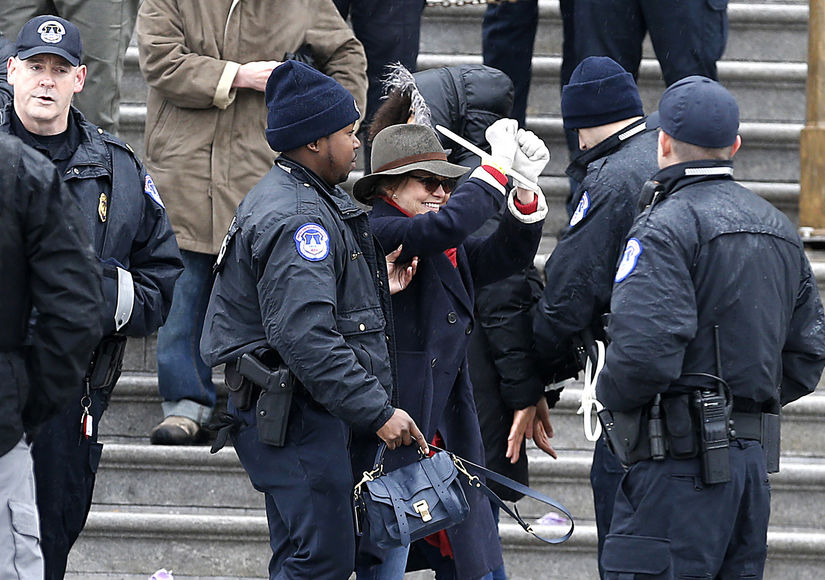 Getty
Ahead of her arrest, Sally told the crowd, "We cannot sit back in our comfort zones on our couches and wonder, 'What can we do?' We can get out, we can do something… I, like everyone else, feel it is such a big problem, how can we ever accomplish anything? But we can. It is being done. In other countries, it is being done."
This is a possibility that is actually happening, we need to get out of our comfort zones now! - @sally_field #firedrillfriday pic.twitter.com/1qNEfRfn12

— Fire Drill Fridays (@FireDrillFriday) December 13, 2019
Jane also spoke at the event about new green jobs and "just transitions." Watch the video!
A just transition will include wage guarantees for displaced workers, pension guarantees, health insurance for families & additional financial support for those who choose to relocate or acquire the skills necessary for making the transition. Thanks @Janefonda #FireDrillFriday pic.twitter.com/5KzImJMu1x

— Fire Drill Fridays (@FireDrillFriday) December 13, 2019
Last month, Fonda opened up to "Extra's" Cheslie Kryst about her efforts, insisting, "If we don't do what's right, in 11 years the fabric of the environment is going to unravel beyond anything we can control… It's going to affect every aspect of our lives. We should all be concerned."
Fonda has been arrested four times for protesting, along with Hollywood supporters like Diane Lane, Ted Danson and Rosanna Arquette.