The massive four-show crossover between "Arrow," "Supergirl," "The Flash" and "Legends of Tomorrow" is coming to The CW on November 27 and 28!
ExtraTV.com visited the Vancouver sets of the hit shows, where the casts teased the epic event. All the action goes down as the teams gather for Barry and Iris' wedding, which is crashed by villains from Earth-X.
Here is what we learned!
The Wedding Crashers: Grant Gustin warns that even though the wedding is "classic," it is a "comic book wedding" and "something is going to go wrong." Candice Patton added, "You've got some villains who come in and try to spoil that. You've got aliens from Earth-X." So do they actually get married? Patton teased, "You'll have to wait and see."
CW
An Indestructible Designer Dress: Patton said they flew her to L.A. to find a Monique Lhuillier dress for Iris. "There is a line in the script about how Monique Lhuillier dresses are indestructible. She really goes through it in this episode in this wedding dress and it's still pristine… The most important thing was, 'Am I comfortable? Am I going to be able to run away from aliens?'"
Bring on the Battle Royale: Maisie Richardson-Sellers, who plays Amaya, touched on the scope of the four-hour event, saying, "It finished on 'Legends' again this year… so we've had all of the fun scenes. Just bigger, way bigger than last year. I remember doing a scene where there's 25 superheroes lined up on the bridge, everyone in full costume... again, battles with all of us." It's isn't all fighting," Maisie insisted. "There's some love in it, and there's some loss in it. It's a very emotional journey."
CW
In Other Words, It's an Arrowverse Super Bowl: Stephen Amell teased, "I would wager to guess that I have the most screen time in all four episodes of the crossover." The actor describes it as a "four-hour escape," insisting, "Call it the crossover if you want. But it's kind of like calling the Super Bowl just a football game."
Meet Supergirl's Evil Doppelgänger: Melissa Benoist will play two characters in the crossover, which means two costumes! The actress explained, "There's still a cape and my face is covered and she's not so nice. It was pretty challenging… I've had moments like that on this show… but this was entirely different. This was not even Red Kryptonite-esque. This was way worse." What was the most challenging part? Benoist said, "I didn't anticipate how hard the transition would be to go from lightness to darkness."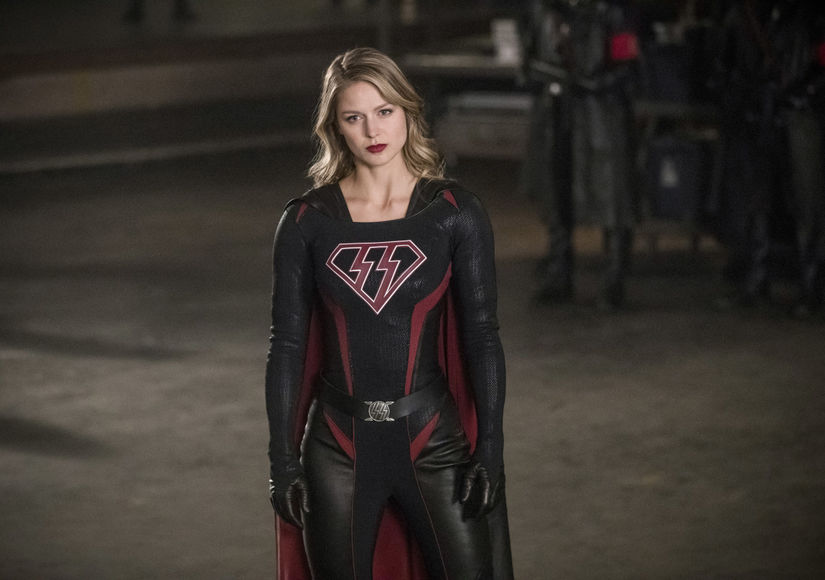 CW
Captain Cold Is Back… or Is He? Wentworth Miller returns, but this time as Citizen Cold rather than Captain Cold. "Legends" star Dominic Purcell praised his longtime friend, saying, "We have an on-screen chemistry that is unsurpassed. You know, we call each other 'frick and frack,' 'salt and pepper'… our rhythms are so in sync." He added that, "The audience will really see a difference in [Wentworth's] character, and also how Rory reacts to this new… you know, Captain Cold, if you will. So it was interesting. We're dealing with some really topical stuff."
CW
Mick Rory is crushing on Killer Frost: Purcell divulged, "If there's one character Rory has the hots for it's Killer Frost… he's had a crush on her for quite some time. Whether or not that will develop into anything, I doubt it, because I'm not sure if Rory can be tamed." "The Flash" actress Danielle Panabaker joked, "He'd really like to know a little more about her. He'd really like to figure out how to make her come out, as well."
The CW kicks off "Crisis on Earth-X" at 8 p.m. on Monday with "Arrow," followed by "Supergirl." The action continues Tuesday at 8 p.m. on "The Flash," followed by "Legends of Tomorrow."