It was one of music's biggest nights, and there were plenty of honors and screen time to go around at this year's Billboard Music Awards. Check out
a complete list of winners here
.
Some memorable moments everyone will be talking about:
That Taylor Swift Video (You Know the One)
"Bad Blood" launched the show and Taylor Swift was launched right through the window of a skyscraper in
the action-movie tribute
. Taylor then went on to win every award except, like, Top Male Artist. She told her fans late in the telecast, "I'm obsessed with you!"
Extra! Extra!


Van Halen wildman/lead singer David Lee Roth was channeling his inner newsie with that cap, and wasn't shy about name-checking Nicki Minaj in
the band's performance of their classic "Panama."


1D's Shout-Out to Zayn

Taking home the night's first award, One Direction thanked their fans before Liam Payne interjected,
"There's one more person to share this with, and that's our brother Zayn."

[Cred: Kevin Winter/Getty Images]
A Stage Filled with Uma Thurmans
Fall Out Boy's Wiz Khalifa-charged
performance of "Uma Thurman"
gave us a sea of "Pulp Fiction" realness.
Nick Jonas's Giant Lips
Well, not his
own
lips, but those '80s-looking lips and sunglasses hovering behind the silver-jacketed solo artist's
passionate performance of "Jealous."


Paul Walker Remembered
Charlie Puth, Wiz Khalifa, and violinist Lindsey Stirling brought down the house with
their stirring performance of "See You Again"
in honor of late actor Paul Walker.
Chrissy Teigen and John Legend's "Hart to Hart" Act
First, Chrissy said of her husband John Legend that he's "like a brother to me." She also flirted with him, sitting in his lap after his
"Like I'm Gonna Lose You" duet with Meghan Trainor
, of which she said, "I'm a little jealous!" All was good, though, when Legend was honored with an award for "All of Me," the song he said was inspired by Teigen.

[Cred: Ethan Miller/Getty Images]
Mariah's High Note
The diva has just kicked off
a Vegas residency
, so she didn't have to travel far to deliver
a mash-up
of her signature hit "Vision of Love" (one of
the most influential vocal performances of all time
) and her new release "Infinity." She sounded great, and really went for it with that final note. She wasn't able to get a standing J.Lo, but she got a standing O from some in the crowd, who undoubtedly agreed with Idina Menzel, who referred to Mariah as "a singer's singer."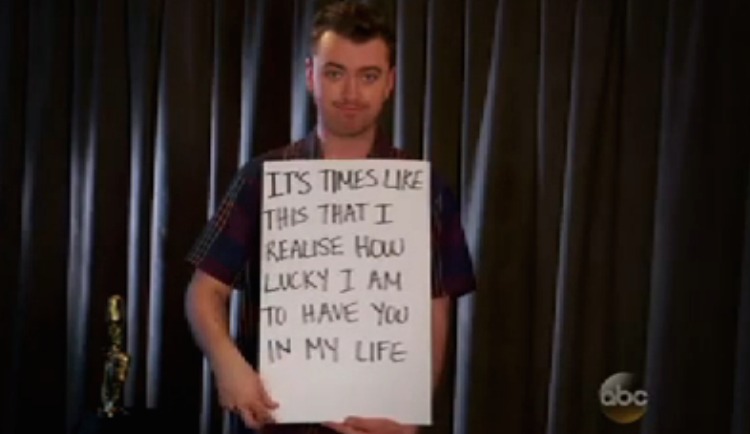 [Credit: ABC]
Sam Smith's Soundless Acceptance Speech
Followed by legend Céline Dion's declaration that all of the finalists for Top Male Artist were "worth-y," top dog Sam Smith appeared via pre-taped video sent in because he's in NYC recovering from vocal cord surgery. Flipping through
handwritten cards
, he told Taylor Swift to "put a 100 on black for me," raved about Nicki Minaj's "bum," and told Ed Sheeran he was organizing a special dance for him at Chippendales.
"Empire" Soundtrack Salute
Introduced by series star Taraji P. Henson, "Empire" performers Jussie Smollett and Bryshere "Yazz" Gray teamed up with Estelle for
dazzling takes
on the soundtrack songs "Conqueror" and "You're So Beautiful."

[Cred: Ethan Miller/Getty Images]
Faith Hill Helps Little Big Town Crush It!
In a rare TV appaerance, Faith Hill joined Little Big Town for
a touching performance of the gay-themed "Girl Crush,"
a song that hit #1 on the Billboard Hot Country Songs chart in spite of some resistance from stations uncomfortable with the song's lyrics. The audience gave it a standing ovation.
Meghan Trainor Crying, Making Charlie Puth Cry
Winning Top Hot 100 Song for "All About That Bass," Meghan got misty-eyed (as did Charlie Puth, watching from the audience). Sweet. 

[Cred: Denise Truscello/Getty Images]
"Pretty" Darn Good!
In an off-site performance (but they were in the same city!!!), Britney Spears and Iggy Azalea offered their first live-ish performance of "Pretty Girls," their bid for Song of the Summer. Both looked more than just pretty. Britney's cut-outfit and dance moves were definitely
In the Zone
, didn't you think?
Nicki Minaj's Twerk-Out


Nicki, the hardest-twerking woman in showbiz, lit up the stage with 
her "The Night Is Still Young"/"Hey Mama" mash-up
.
Is Molly Ringwald the new member of the squad? We think so! #BBMAs pic.twitter.com/bc7JoYZ0kz

— Taylor Swift Updates (@SwiftBulletin) May 18, 2015

"The Breakfast Club": 30 Years Later!

Gotta love Molly Ringwald introducing Simple Minds (she called them "the Simple Minds") singing "Don't You (Forget About Me)," the song's indelible theme song. Can you believe it's been three decades? The band was actually hired to sing the song at the time, and decided to go for it even though it totally wasn't their sound. Once it became a worldwide #1 smash, it became their sound. Considering how into their performance the entire crowd was tonight, it's not hard to understand why. Molly got some Taylor time during the performance, too, after asking from the stage if she could join Swifty's crew. Request granted.
That Kanye Finale ... What Parts Could Be Heard
Kanye West, introduced by stepsisters-in-law Kylie and Kendall Jenner, performed
a (literally) fiery live performance of "All Day"
to end the show, though it seemed like about half the song was censored. 
"Extra's" Renee Bargh was in Las Vegas for the awards show catching up with the big stars of the night on the red carpet, including Jennifer Lopez, Iggy Azalea, Ed Sheeran, and Zendaya.
Check out our interviews!
Which were your favorite parts of the show? What did we miss?