Anna Paquin and Stephen Moyer tried to keep their love a secret on the set of "True Blood," but creator Alan Ball reveals that the lovebirds weren't fooling anyone.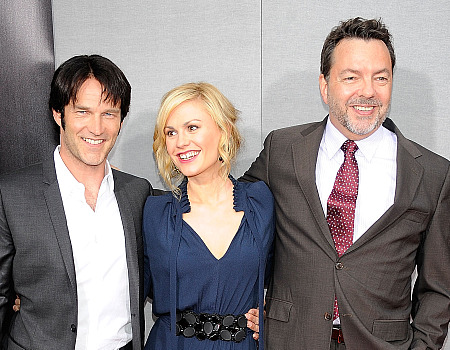 "I know that they think that nobody knew about it until the end of the season, but I knew about it by episode two," Ball reveals to People magazine at the Gay, Lesbian and Straight Education Network Respect Awards in L.A.
The 52-year-old writer and producer sensed sparks between Moyer and Paquin when the two first filmed the scene where their characters -- Bill and Sookie -- first met. "Stephen comes into the bar, and takes Anna's hand, and I thought, "Wow, they have chemistry!" But sometimes actors have chemistry when they're acting together, but they cannot stand each other while off set."
Alan admits that when he found out the two were dating, his first reaction was worry about how their romance would play-out on the set. "When I found out that they were dating, my reaction was, 'Uh-oh! I hope that this doesn't blow up in our face.'"
Ball adds, "But this has been happening long enough that it's very clear that it is the real thing. They're very, very happy and I'm just thrilled for them."
Stephen and Anna announced their engagement in August.