Tyler Perry exclusively tells "Extra" that he actually came face to face with the alleged stalker who threatened his life!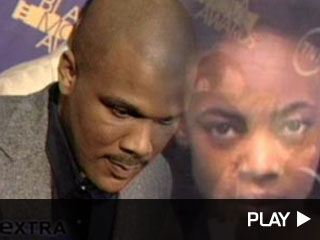 Perry tells "Extra" he had a conversation with Wilson when she lied her way onto his upcoming film set by posing as a movie extra. As soon as Wilson revealed her name and where she was from, Perry realized she was the woman who had previously threatened to kill him. Perry immediately obtained a restraining order against her.
The restraining order claims in March 2008, Wilson began contacting Perry via the computer "in a menacing manner." This caused the actor/director/screenwriter to fear "apprehension of immediately receiving a violent injury."
The following month Wilson sent another e-mail stating, "You need to check your heart condition because it is filled with murder... your love has been but costly and deadly... Murder I say is the verdict." The 36-year-old added, "Why do you insist on assisting the devil?"
Dawne Wilson was arrested last week after being spotted on the premises of Perry's Atlanta production offices. Wilson, 36, had violated an existing restraining order obtained by the "Madea Goes to Jail" star.
The actor/director/screenwriter revealed Wilson entered his workplace and trespassed on the grounds of his home. The alleged stalker even camped out in the surrounding woods surrounding Perry's Atlanta mansion. Perry says he was shocked to hear Wilson was on his property since his 12-acre estate outside Atlanta is like "Fort Knox."
The 39-year-old star admits he was surprised when he saw Wilson in person because "she is so young and cute." The alleged stalker is currently in Atlanta Police custody and being held without bail.