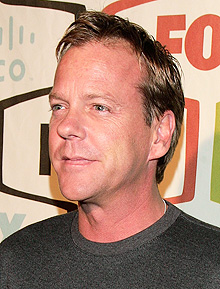 Malibu isn't the only entertainment community affected by the fire.
The Hollywood Reporter is reporting that production of Fox's "24" was shut down yesterday after smoke from an Orange County, Calif. fire made scenes impossible to shoot. Producers were ready to film at several hangars at the Marine Corps air station in Irvine, but were forced to go elsewhere.
Production on "Cold Case" and "Big Shots" also faced some challenges as the fires affected the location of the shoots, though filming wasn't shut down. "Cold Case's" Simi Valley sets were reportedly blown over by strong winds.

Meanwhile, in Malibu, one Hollywood bigwig is opening his heart – and his hotel – to exhausted firefighters.
Music mogul and film legend David Geffen has reportedly opened his swanky Malibu Beach Inn to firefighters and rescue workers for free.
In addition, Variety is reporting that several upscale hotels are receiving an influx of room requests from displaced Malibu residents.
The Four Seasons, as well as the Peninsula in Beverly Hills, are both reporting a large number of bookings.