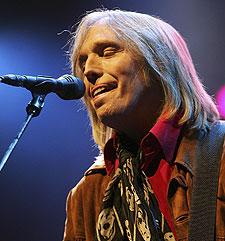 Reclusive rock star Tom Petty went on the record with "Extra" at the premiere of "Running Down a Dream," the new documentary from famed director Peter Bogdanovich that chronicles the wild ride of Tom Petty and the Heartbreakers.
"We never really told the whole story of what happened to us," Tom told "Extra." "It's an unusual story."
"It's about an extraordinarily talented music-maker and poet from Florida," explained Peter.
Tom learned to play guitar while growing up in Gainsville and went on to worldwide fame, selling 50 million albums.
But Tom told "Extra" it was tough opening up about his private life for Peter's cameras.
"We dug out a lot of stuff that's never been out before," Tom admitted.
The documentary includes a revealing confession straight from Stevie Nicks, who teamed with Tom for a duet.
In the documentary, Stevie confesses, "In 1978, if Tom Petty said, 'Leave Fleetwood Mac and come join us,' I would have probably left and joined Tom Petty and the Heartbreakers."
"Running Down a Dream" hits theaters Oct. 15 and comes out on DVD the very next day.
Fans can also order the book version of Peter's documentary here.