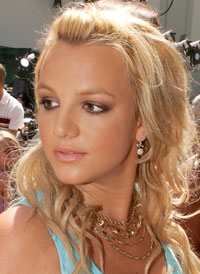 Britney Spears has been issued a California driver's license from the DMV.
"Extra" was there as Britney got the VIP treatment from a DMV pencil-pusher, who personally delivered Brit's new license to her as she waited in her car.
The chaotic scene capped off a crazy day for Britney yesterday. At noon she shared a lunch of pasta and iced tea with cousin Alli at the Peninsula Hotel, then she reportedly had an evening photo shoot at Santa Monica's Pier 59 Studios.
Then, just hours after getting her license, Britney got a late-night driving lesson from a mystery man.
"Extra" can reveal he's a film producer named Sam Lufti who was with Britney when she lost temporary custody of her kids. He helped engineer the driver's license handoff. Lufti's MySpace page says he's 33 and a native of Southern California.
Today the Spears saga moves to an L.A. courthouse, where Britney's legal team will battle to get her kids back.
The fulfillment of her license requirement is a step in the right direction for the troubled star. Her failure to get it in time was one of the reasons a judge stripped her of custody.
But famed "Love Line" psychiatrist Dr. Drew Pinsky tells "Extra" he has worse fears for Britney than just losing her kids.
"There's no doubt in my mind for Britney the worst is yet to come," he says. "You're going to see marked escalation of drug use and/or this explicitly self-destructive behavior like cutting or suicide."
Former New York prosecutor Jeanine Pirro says no matter what happens, Britney needs to realize her most important role is mother.
"She had every opportunity to demonstrate to the court that she was a good mother and she failed at every level," she tells "Extra." "I care about her taking care of those children and believing those children are coming first. I don't believe they're first."