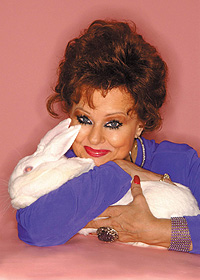 Tammy Faye Messner passed away peacefully at her home Friday morning, her family announced Saturday. She was 65.
Tammy had been battling inoperable lung cancer since 2004. Earlier this year, she announced the cancer was no longer treatable – but that she had faith.
The mascara-loving evangelist appeared on CNN's "Larry King Live" on Thursday, and said confidently, "I'm going straight to heaven."
Jim Bakker, Tammy's former husband, said, "Our family is deeply saddened by the news of the passing of Tammy Faye. She lived her life like the song she sang, 'If Life Hands You a Lemon, Make Lemonade.'
"My heart aches for my two children," he continued. "Jamie Charles and Tammy Sue, who loved their Mother dearly. They both told me their Mom was so full of life that it is hard to believe she is gone."
Tammy had dwindled down to a shocking 65 pounds and revealed she could no longer swallow food. But she still managed to give one final message of hope to her audience.
"I'd like to say that I genuinely love you, and I genuinely care, and I genuinely want to see you in heaven some day," Tammy said. "I want you to find peace. I want you to find joy."
Asked by King what she would most like to be remembered for, Tammy jokingly said, "Well, my eyelashes."
But Tammy will be remembered for much more than that.
She helped her ex-husband Jim Bakker launch the multi-million dollar televangelist ministry PTL (Praise The Lord) Network in the 1970s. It was later shut down amid Bakker's involvement in a million-dollar defrauding scandal and an extramarital affair.
Tammy went on to marry construction tycoon Roe Messner, with whom she spent the last years of her life. Asked on "Larry King Live" how they are coping with her decline, Roe answered with a laugh, "We make it good, don't we honey?"
Tammy is survived by Roe and her two children, Tammy Sue, 37, and Jay 31.
"Extra" wants to know: what will you remember most about Tammy Faye? Post your comments here.