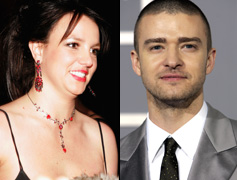 "Extra" spotted Britney Spears Wednesday sporting a new brown wig at Promises in Malibu.

But as the mother of two gets back on her feet, will her former flame Justin Timberlake help resurrect her career?

According to the new issue of Entertainment Weekly, yes!

The news of this Britney-Justin reunion is strictly professional, and it was leaked by superstar producer Timbaland, who worked on JT's new album.

Timbaland dishes to EW that he wants to help out the pop princess, and he asked Justin if he would help too.

While JT agreed to jump on board, he made it clear that "she's just got to be serious."

As for Brit's ex, Kevin Federline, "Extra" spotted him driving around Malibu Tuesday in his $170,000 silver Ferrari.
Click on an image below to see the Britney Spears photo gallery!