HOST
Mario Lopez
Mario Lopez continues as host of "Extra," the Emmy® Award–winning entertainment news program, for the show's 23rd season. This will be Lopez's ninth consecutive season as the show's host, after co-hosting "Extra's" weekend edition since January 2007.
CO-HOSTS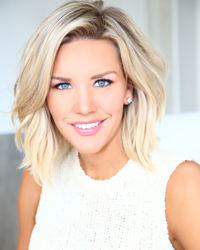 Charissa Thompson, Co-Host
Charissa Thompson joins Mario Lopez as co-host of "Extra" for its 23rd season.
AJ Calloway, NY Host
A New Jersey native, AJ Calloway is the New York City host for "Extra." AJ is at the center of all things entertainment in the Big Apple, interviewing the most talked about celebrities, athletes and notables in the country.
CORRESPONDENTS
Renee Bargh, "Extra Weekend" Co-Host/Correspondent
Australia native Renee Bargh joined "Extra" in late 2010 and will continue her role as "Extra Weekend" Co-Host and "Extra" correspondent for the show's 23rd season.
Jerry Penacoli, Correspondent
Multiple Emmy award-winner Jerry Penacoli has served as a correspondent for "Extra" for the past 16 seasons. For the show's 23rd season, Penacoli will be called upon to cover many of the show's high profile and exclusive interviews. A respected journalist, he has also been a host for E! Entertainment Television and received a daytime Emmy nomination for his excellence in reporting.
Terri Seymour, Correspondent
Terri Seymour serves as a correspondent for the nationally syndicated television show, "Extra." She joined the program in 2004 as a freelance reporter covering "American Idol" and was then promoted to a full-time correspondent position.
Michael Corbett, Correspondent
Michael Corbett is a correspondent for the nationally syndicated newsmagazine "Extra." Utilizing his expertise in the Lifestyle, Home and Real Estate arenas, Corbett has also developed one of "Extra's" signature franchises: Mansions and Millionaires! Michael is Host and Senior Supervising Producer of Mansions and Millionaires, the series of popular hour-long weekend specials that takes viewers on a sneak peak of the extraordinary mansions, yachts, and hobbies of the rich and famous.
Hilaria Thomas Baldwin, Correspondent
Fitness and wellness expert Hilaria Thomas Baldwin is the co-founder of Yoga Vida, a yoga studio with locations in Union Square and Noho that offer yoga classes, workshops, retreats, and Yoga Alliance Registered Teacher Training Programs. Hilaria is the Lifestyle correspondent for "Extra," where she covers fitness, fashion, celebrities, and news. Recent interviews include Governor Chris Christie, Jane Fonda, Emma Stone and Tony Bennett.
Executive Producers
Lisa Gregorisch-Dempsey, Senior Executive Producer
One of the most respected newsmagazine producers in the country, Lisa Gregorisch-Dempsey serves as Senior Executive Producer of the Emmy® Winning newsmagazine "Extra," now in its 23rd season, and the Emmy® nominated true crime series "Crime Watch Daily with Chris Hansen." The popular show is entering its 22nd season this fall, broadcasting coast-to-coast on location from Universal Studios Hollywood in Los Angeles and Times Square in New York City. In her position at Telepictures Productions, Gregorisch-Dempsey works on the development of new television series, utilizing "Extra" as a lab to create and nest other original content and programming.
Theresa Coffino, Executive Producer
Veteran syndicated television producer Theresa Coffino has run the day-to-day operations of the Emmy® Award–winning entertainment news magazine "Extra" for the past 13 years. She currently enters her 16th year with the show as "Extra" launches its 23rd season this fall. She was named the show's executive producer in 2002, and previously held co-executive producer and supervising producer credits on the series.
Jeremy Spiegel, Executive Producer
Veteran newsmagazine producer Jeremy Spiegel serves as Executive Producer of the Emmy® winning newsmagazine "Extra," now on its 23rd season, and the Emmy® nominated true crime series "Crime Watch Daily with Chris Hansen." It marks Spiegel's 20th year with "Extra." Prior to being named executive producer, he held numerous senior positions on the series, most recently as co-executive producer, and was instrumental in re-launching "Extra" with its new coast-to-coast "live event" format.
ABOUT THE SHOW
EXTRA, winner of the first-ever Daytime Emmy® Award for Outstanding Entertainment News Program, continues this season with live broadcasts from Universal Studios Hollywood, the entertainment capital of Los Angeles. EXTRA also won the award for the second time in 2016.
Host Mario Lopez and co-host Charissa Thompson bring the latest breaking news from the worlds of entertainment and pop culture from a variety of locations throughout Universal Studios Hollywood and Universal CityWalk, home to world-class retailers, restaurants, thrill rides, iconic movie characters and the Studio's famous backlot.
Fans of "Extra" and theme park guests visiting from around the world have a chance to participate in "Extra's" daily entertainment event, which takes place Monday through Friday, from 10:00am to 4:00pm, and includes live appearances from A-list film and television actors, musicians, athletes and newsmakers. Fans are also able to interact with Lopez, Edmonds and Thompson and have a chance to ask questions, pose for pictures, get autographs, enjoy live musical performances and see their favorite stars up close and personal.
"Extra" continues to be the only show in the genre to showcase the electricity of a live audience, and takes its viewers on a coast-to-coast trip in every episode, from Hollywood to hotspots at Planet Hollywood Resort & Casino in Las Vegas to their H&M Studio in New York City's Times Square, providing a hip, fresh and unique approach to breaking entertainment news.
"Extra" is helmed by senior executive producer Lisa Gregorisch-Dempsey. Her senior production team includes executive producers Theresa Coffino and Jeremy Spiegel. "Extra" has fully staffed bureaus in New York and Las Vegas. With correspondents and producers around the globe, the show offers a half-hour edition every weekday and an original hour-long weekend installment. Seen in more than 98% of the country, "Extra" airs on major market affiliates, including the key NBC Television Owned-and-Operated Stations. "Extra" is produced by Telepictures Productions and distributed by Warner Bros. Domestic Television Distribution.